Since we had the Kitchen, Toilet & Bathroom refit the Mr has been working to redecorate properly I have been planning my purple dream kitchen and I have finally decided on the Wilko's Durable Lilac Paint for the Kitchen to keep the walls light & keep with the darker purple appliances & whatever else I can convince the Mr is muchly needed in the kitchen ;).
We already have a perfectly working Kettle & Toaster in purple and since our microwave decided to die on my birthday (followed by the hoover 2 days later!) I've been looking around for a nice purple one to match and it seems the Wilko's colour play range the Toaster & Kettle are from have the best purple one I can find and at just £50 hopefully we can save up for it very soon!
I do already have a dish drainer and although I mainly use the dishwasher now I've had my eye on this gorgeous purple dish drainer for a while.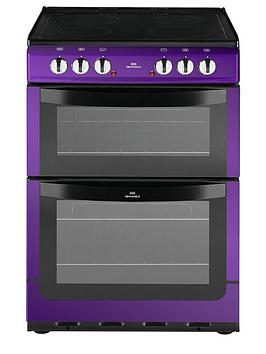 Although it is well out of our price range I hope one day I can buy this stunningly purple oven to replace our horrid old white one!
I love these Salter Orb mechanical scales which would be perfect for when we bake!
I love this Morphy Richards Accents 5 Piece Tool Set in plum & think it would look gorgeous with the worktops too!
Our Knife block is well overdue a replacement and again from the Morphy Richards Accents Range I found this Knife block in the Plum.
And of course to complete the set it's only right we got the kitchen storage set too.. right?
Of course this lovely lot costs a fair bit when you add it all up but hopefully we can save and buy everything on the list bit by bit. Have you spotted any lovely Kitchen accessories in purple recently? What would be your main colour scheme for your dream kitchen?